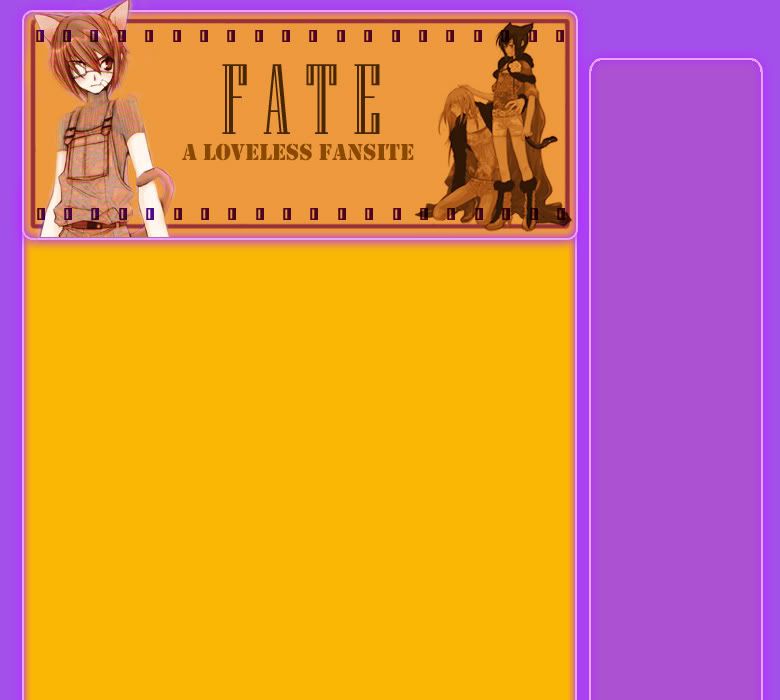 Welcome! You have arrived at Fate, a fansite to the manga Loveless by Yun Kouga! Please feel free to look around and use any images that you find on this site (as long as you are sure to credit!). If you want to you can email me with any comments, gifts, errors you've found, fanart/fics/music videos you want posted on the site, or anything at all.

And while you're here, read or sign the guestbook!


----------------------------------------------------------------
- - - - - - - - - - - - - - - - - - - - - - - - - - - - - - - -
----------------------------------------------------------------


SITE CREATED: September 22nd, 2003
LAST UPDATED: July 27th, 2005


----------------------------------------------------------------
- - - - - - - - - - - - - - - - - - - - - - - - - - - - - - - -
----------------------------------------------------------------


MOST RECENT UPDATES:
01/05/06
09:58AM
Hello everyone! Sorry I've been MIA for so long.... Hopefully the new layout will be a sufficient enough appology! But.. as soon as I made it, I got hired by MIT to do some HTML editing and, alas, realized how lame mine truely is... but one day when I have sufficient knowlege, I will make this site awesome and fancy. For now I hope you like the less narrow new style! Yay! By the way, if anyone knows where I can order the special version of the sixth Loveless manga, PLEASE email me!!! Anyway, a loooooot of stuff gets added with this update but what I want more of are contributions from YOU!! If you write fanart, send it in and I'll start a fanfiction section! If you draw art, I want you added to the fanart section! Show me Pictures of your cosplay! Your avatars! Anything at all to share your Loveless stuff with the world and help this site grow!! I know this was the biggest English Loveless fan site for a while (because.. it was the first) but now that the manga is becoming more well known, I have no idea if this is still the case. Anyhow, I just want this site to be as good as it can be, and I need your help for that! I'm also working on adding a HUMOR page, so if you can contribute to that, please do! I hope everyone has had a great holiday and wonderful start to their new years!

Added:
-new layout
-two avatars
-fourtyeight manga images
-one manga cover
-one special manga cover
-five manga magazine images
-six new merchandeis images
-ten anime images
-thirtyfour chibi anime images
-twenty anime magazine images
-two anime merchandeis images
-two anime CD covers
-three anime DVD covers
-one new thank you banner
-one new old layout
-one new link in




07/27/05
12:02PM
I've got a small update for today, but many new images are on the way!

Added:
-two cosplay images




07/23/05
06:52PM
FINALLY!!! I'M DONE UPDATING! I swear, every second that I thought I was ready to do it, I'd find a MILLION more images and stuff to put up!! So I hope you guys appreciate this! I am also looking for a place to order the new Loveless Art Book that Yun Kouga put out "For Your Eyes Only". On ebay it was REALLY overpriced but the only websites that have it were in Japanese!! T_T Hopefully my local anime store will get it for me (though they overprice a lot too..). Then I'll whip my scanner into shape and have even MORE images. Or at least better quality ones. I also want to get a hold of that calander, but somehow I don't see it happening. Oh, an exciting bit of news for those of you who don't know - LOVELESS HAS BEEN LICENSED!! BY TOKYOPOP!! I love Tokyopop - they do such a great job on everything, so I'm really excited. And there's even talk of the anime being licensed.. did I mention the first DVD is already out? How exciting...! As the first Loveless fansite in English, it's great to see its popularity growing so much! The only problem with all this is that it means more work for me - I haven't even started collecting anime screencaps beyond what's already up.. Maybe that will be my next project. I'm not sure how long that surprise thing is going to take.. but eventually it will happen.. summer classes are taking SO much more time than they should and I never remember to bring my Loveless manga back to the dorm.. Oh well - this is a pretty massive update without a whole new section added, so ENJOY!!!!

Added:
-eight anigifs
-seven anime characters
-twelve anime episode banners
-five anime goodie banners
-six anime images
-six anime merchandeis images
-four anime magazine pages
-two anime CDs
-two anime DVDs
-twenty-six manga avatars
-nineteen clique codes
-three cosplay images (thanks Tiffany!)
-twenty-three manga images
-one manga magazine page
-seven manga merchandeis images
-four links
-five loveless cliques
-twelve clique memebers
-replaced about 5 manga images with better quality/sized versions
-deleted five clique codes
-deleted eleven links
-deleted one webring
-deleted eight cliques




07/09/05
02:18PM
Despite having gotten.. maybe.. half an hour of sleep last night, the updates are coming along! Woot! Next on my to do list are to find the new images that I had on my computer and can no longer find, add the rest of the anime episodes and characters and update the clique (sooooo sorry to anyone waiting..!). After that, I have a special surprise, though as I mentioned before it really depends on if my scanner is going to stop spazzing and work.

Added:
-one wallpaper
-three avatars
-eight images
-two magazine images
-four anime images
-three anime magazine images
-two anime cd images
-one anime dvd image
-and replaced three manga images with better versions of them.




05:53AM
Okay, I've been meaning to do it for a while, but I finally managed to move everything to our new host. Freewebs kept shutting down for a month at a time every time I went over it's alotted bandwidth.. Popheart.org and its owner Ari rock IMMEASURABLY for helping me out. I've been working on some cool projects for the site, so expect some big updates soon (assuming I can get my scanner to work again). Sorry for the long wait.

Added:
-new server -one image




04/07/05
12:34PM
FIRST EPISODE OF THE ANIME PREMIERED!! WOOT!! I'll have to steal the raw from somone (so if you have it, PLEASE send it my way!!). Anyhow, this means LOTS of updates for you! This took me forever to do, so I hope you enjoy it!

Added:
-thirtyfour anime images
-one manga wallpaper
-anime characters page update
-eight anime characters
-episodes page
-four episodes
-one manga image
-two fanarts
-one anigif